Greetings everyone. My name is Terra aka
Stylish White Female
. I am honored to be guest blogging for Morgan while she and Lua are away. Morgan's challenge had me stumped for some time. I remember wanting to be so many different things when I grew up.
Concert pianist, ballerina, Michael Jackson's girl (thanks
Thriller
), Michael J. Fox's girl (thanks
Back to the Future I and II
), choreographer, lawyer, psychologist.
And then I remembered Andie from
Pretty in Pink
. Molly Ringwald didn't look like anyone I had ever seen on television before. She had big pouty lips and short red hair. Her character Andie was smart. She said all of the things I wished I could have said to the assholes with whom I went to school. Andie was creative and she took chances. The ensembles she put together screamed, "I am my own woman. I am not like
you
."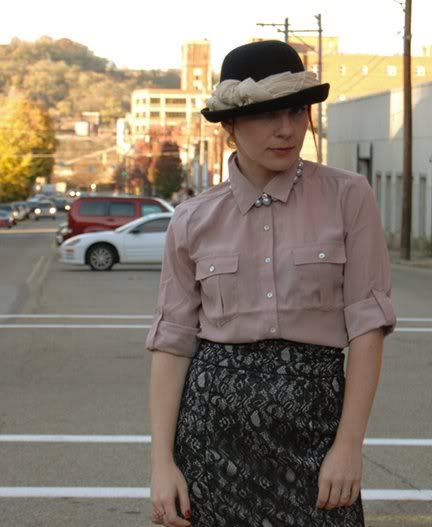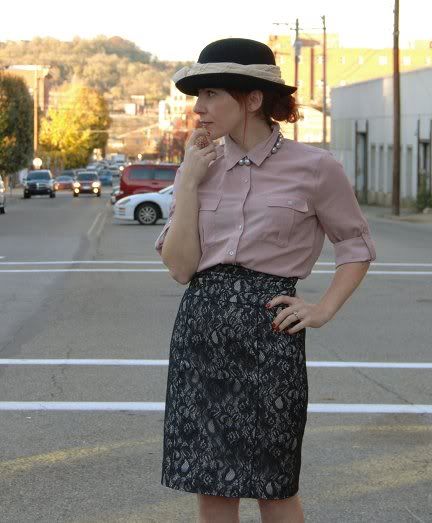 She challenged Blane. (
His name is
BLANE
? Oh! That's a major appliance, that's not a name.
) She challenged Steff. (
You know, I've been out with a lot of girls at this school. I don't see what makes you so different
.
) She valued herself enough to know that she is not defined by a man or by labels. (
I just want them to know that they didn't break me.
)
Of course, we all know Andie kept herself and got the guy. Now, Steff was a bit more my speed. But whatever. That doesn't make for a good story.
Ultimately, all I wanted to be when I grew up was me. Nerdy, goofy, at times reclusive and at others obnoxious. And I wanted someone to love me that way.
You said you couldn't be with someone who didn't believe in you. Well, I believed in you. I just didn't believe in me. I love you... always.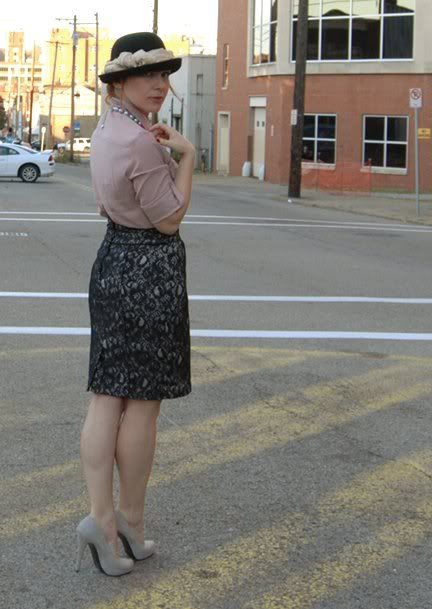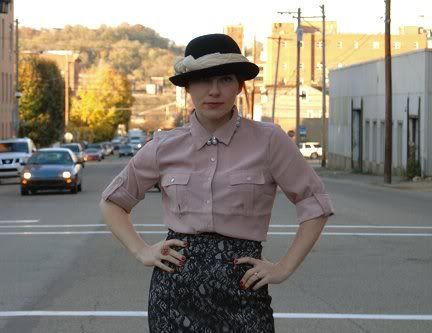 Skirt & blouse: H&M ($35 & $30)
Hat: Urban Outfitters ($28)
Scarf on hat: Gift
Necklace: Express (Got this thing ages ago. $?)
Shoes: Fig Leaf ($29)
Ring: Courtesy of Global Girl Gifts